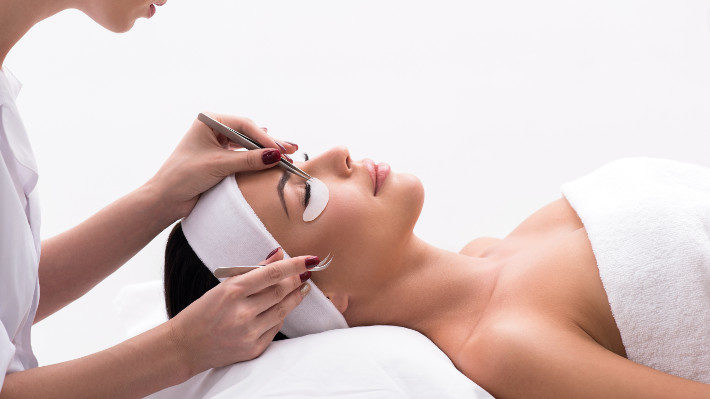 The Perfect Spa Idea: Lash Extensions
When was the last time you really pampered yourself? No, I'm not talking about getting your hair done or stopping by the nail salon for a touch-up on your polish. I mean real pampering of the sort that provides you with glam that you may not necessarily need – but that you surely deserve. If you haven't had that level of pampering in a while and have been considering any type of spa adventure, we've got the perfect spa-like idea to fit the bill: eyelash extensions!
Ladies, we all know what it's like to wake up in the morning and race to get our eyelashes ready for public view. We curl them, apply mascara, and try to shape them to get that volume that we all so desperately crave. Face it: unless you're blessed with long, perfectly-curled, lush lashes, chances are that your eyelash ritual takes up far more of your time each day than you would prefer. Well, lash extensions can change that dynamic.
Glam Any Time of the Day
When you get a beautiful set of lash extensions, you won't have to worry about making yourself glamorous every day – you'll wake up that way! Unlike false eyelashes that need to be put on and taken off each day, eyelash extensions are glued directly to your lashes and stay there until the natural lash sheds over the course of several weeks. What does that mean for you? Your lash extensions are basically part of your lash for the rest of that lash cycle!
Painless Application
Of course, many women who have never experienced lash extensions for themselves sometimes express concern that the application process might cause them pain or discomfort. The reality is, though, that an eyelash extension application is completely pain-free. At our lash salon, we have the best licensed technicians in the state handling our applications, and they work diligently to ensure that you receive the safe, enjoyable treatment you deserve.
Dozing Off? You just Might!
Have you ever been to a spa and just drifted off to sleep? It's funny how that can happen when you're feeling relaxed and at ease. Well, a great lash salon has that type of environment too. And since the application process can take over an hour, it's not uncommon for clients to simply doze off at some point during the application. Now, that's the type of relaxed experience that every woman deserves!
Here's the thing, though. To ensure that you get the right extension experience, you need to be selective about the salons you choose. For a spa-like experience, there's only one real option in the area. The fact is that the best eyelash extension services in New York City can only be found at Ebenezer Eyelash. We have fully-trained and licensed technicians on staff to manage your lash extension application, and an environment that is designed to provide you with the relaxation you need. To learn more about how you can pamper yourself with a gorgeous set of perfect lashes, contact us today.