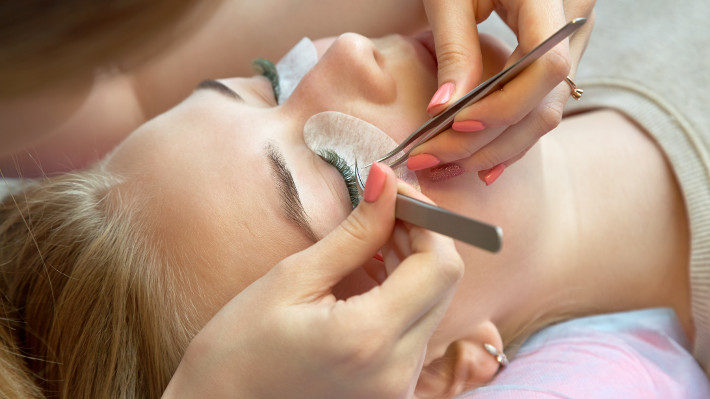 Learning from Experience: Lash Extensions Really Do Beat Falsies!
There are times when we just don't know what we have until we try to replace it with something new. Take lash extensions, for example. For women who have grown accustomed to including perfect extensions in their beauty regimen, it seems almost unthinkable to imagine that they would ever try anything else. It happens, though, as some extension-wearers eventually just want to try another lash option. That was the case with one of our readers, who recently told us about her experience switching from lash extensions to false eyelashes.
And yes, that change usually happens in the opposite direction, as women tend to move from falsies to professional extensions. In this instance, however, Melissa decided to take a break from extensions for a while, and figured that falsies would be a suitable alternative when she needed to spruce up her lashes for an outing. Unfortunately, her timing for this experiment could not have been worse: she decided to make the change days before her birthday and an evening our with close friends.
Imagine the worst "lash night" that you can think of. Pretty grim? Well, your imagination might not even begin to compare with the lash disaster that Melissa experienced that night.
According to Melissa's account, she probably should have seen the disaster coming. After all, her first problem occurred in the car on the way to the restaurant, as the falsies on her left lashes repeatedly came loose and dangled precariously from her eyelashes. "I probably should have had them turn around and go home so that I could remove them," she told us, "but my friend assured me that I had probably just glued them on wrong. She helped reapply the adhesive in the parking lot at the restaurant."
Sadly, the misadventure was just beginning. Melissa's falsies fell off repeatedly throughout the meal. They continued to come loose throughout the movie later that night, and at the bar where they stopped to share a few drinks and sing karaoke. She eventually removed them altogether and tried to wash away as much of the adhesive as possible after the last lash failure scratched her eye.
She has, however, learned an important lesson. "False lashes are not for me!" she said. "I never had these problems with my lash extensions, and could always count on them to make my eyes look and feel great. I'll never try anything else again."
Fortunately for Melissa and other women like her, eyelash extensions are a great way to avoid those false lash problems. And at Ebenezer Eyelash, you can get the best lash extensions in New York City, and ensure that you have big, bold, beautiful lashes that always make your eyes look their best. Our highly-trained and NY-licensed lash technicians will provide you with professionally-applied lashes that match your unique style and personality. To learn more about how lash extensions can change your life and make your next lash extension appointment, contact us today.