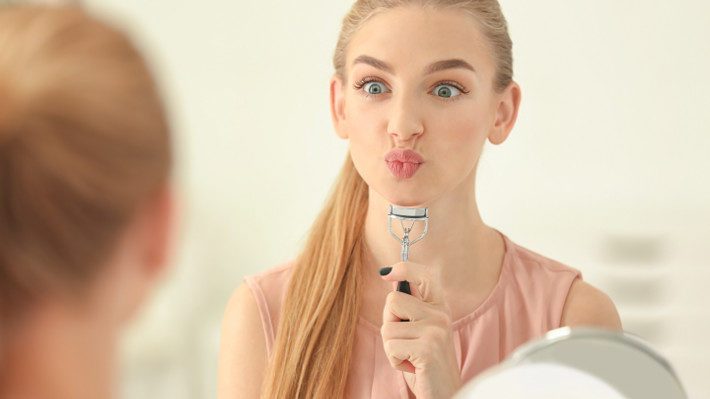 End Your Beauty Regimen Stress… With Lash Extensions!
There are those who say that beauty is pain. That may or may not be true, but there's one thing that cannot be denied: for many women, the beauty regimen can certainly be a pain! By some estimates, the average woman spends about two years of her life doing their hair and makeup. Two years! Just thinking about all that lost time and wasted opportunity is enough to increase any woman's stress levels. Well, if you're feeling the stress of a seemingly endless cycle of putting on and taking off makeup, you can escape that anxiety – with eyelash extensions!
If you have ever tried false eyelashes, then you already know how glamorous your lashes look when they are perfectly full, lush, and long. You understand the effect that those extensions can have when it comes to enhancing the natural beauty of your eyes. And you probably recognized that you needed less makeup on your face when you wore those falsies.
Now imagine enjoying those benefits on a daily basis!
Here's the thing: you already know how frustrating your natural lashes can be. Few of us are endowed with lashes that can maintain their health and vitality without at least some intermittent difficulties. Sometimes, lash shed is erratic, leaving odd gaps and sparse areas around your eyes. At other times, your lashes may droop, as they just refuse to hold their natural curl. Make no mistake; these are all things that can create stress in your life.
Add to that the time that you spend on makeup application and removal – and the cost associated with buying all of that makeup – and you have a recipe for nothing but stress. No wonder your beauty regimen is causing you so much anxiety! Lash extensions can rescue you from that nightmare.
With a great set of perfectly-applied lash extensions, you can enjoy lashes that are perfectly curled. Exquisitely shaped. Unparalleled in volume. And lightweight and natural-looking too! Best of all, you can enjoy these benefits without spending hours and hours applying makeup, curling your lashes, or fretting about how they look. You can simply get out there and live life, secure in the knowledge that your lashes always look their best.
That level of stress-free lash care may not seem possible, but it is! The best lash applications can help you to rediscover true lash enjoyment and set aside the frustration and anxiety that nonstop lash maintenance can create. It's time to end your beauty regimen stress – with perfectly-applied lash extensions.
At Ebenezer Eyelash, our team of experienced, licensed lash technicians can help you achieve your lash look. We'll work with you to ensure that you receive the lashes you desire, to get the longer, lusher, more perfectly curled lashes that you need. You deserve to look and feel your best at all times, and we are committed to helping you meet that goal. To learn more and to schedule your appointment for the best eyelash extensions in New York City, call us today.