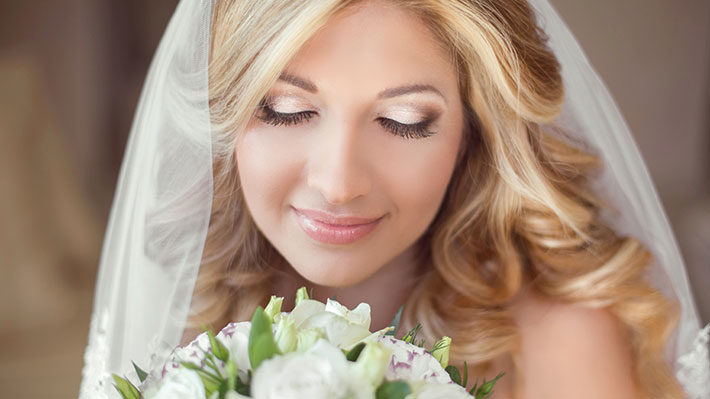 Eyelash Extensions and the Perfect Bride
What does it take to achieve that "perfect bride" look you dreamed about as a child? That's a question that many women ponder as the big day approaches, and everyone seems to approach it in a different way. Many have their own visual image of what an ideal bride should look like, often drawn from long-held childhood imaginings and romanticized visions of perfection. Others search bridal magazines and huddle with experts in an attempt to determine just how they should present themselves to the world on their wedding day.
In reality, presenting yourself as the perfect bride at your own wedding shouldn't be such an angst-ridden decision. It's you that everyone is coming to see, so your only concern should be to present the best possible version of yourself that you can. And no, that doesn't mean getting a complete makeover or trying to make yourself look like someone else. It means enhancing those gorgeous features that you already possess. And when it comes to enhancing features, eyelash extensions can be any perfect bride's best friend.
Meeting Your Wedding Goals
Just think about all of the things you want to accomplish with your look while you're tying the knot on your wedding day. You want all eyes on you. You want to dazzle your groom and every guest at the venue. You want to bring to life your own perfect wedding day in a way that everyone will remember for decades to come. And, of course, you want to look your best in those millions of photos that are sure to be taken throughout the course of the day.
Eyelash extensions can accomplish all of those goals. With extensions, your eyes will be perfectly enhanced with long, perfectly-curled lashes that provide the perfect blend of flirty fun and engaging elegance. You'll look great from every angle, give the camera a once-in-a-lifetime thrill, and have the freedom to even shed a tear of joy if the mood strikes you – and you won't have to worry about your mascara running, because there won't be any!
Doing it Right
There are some things you should consider before you get your extensions, of course:
Start wearing eyelash extensions several months before your wedding, just so you have a chance to get used to the look and feel.
Be sure to get your wedding lashes done several days prior to the wedding so that they will look their absolute best. Besides, it's such a relaxing experience that it might help to calm any pre-wedding jitters you might be experiencing.
Get your extensions applied by certified and licensed experts to ensure quality and safety.
And when it comes to experts, rely on the professionally trained and New York-licensed technicians at Ebenezer Eyelash. Our staff will ensure that you receive the individually-applied lash extensions you need to help you achieve your perfect bride look. If you want the best eyelash extensions in New York City for your wedding day beauty enhancements, contact us today!