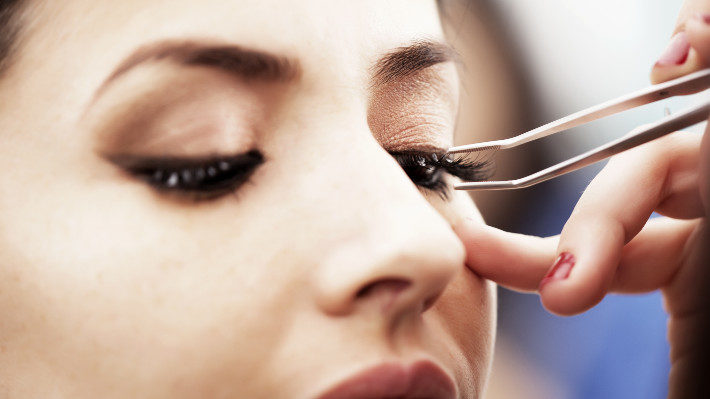 Why DIY Lash Extensions Are Never the Best Option
With the eyelash extension craze sweeping the nation, it was only a matter of time before enterprising women decided to adopt the do-it-yourself approach to extension applications.  After all, why pay a professional to do what you can do on your own – right? Of course, things are never quite that simple. While it is possible that some women may be able to successfully apply their own lash extensions, most experts recommend that women avoid that option altogether. In fact, there are several very good reasons why DIY eyelash extensions are never really your best option.
Steady Hands and Observant Eyes
You might figure that you'll have no trouble applying those lashes on your own, but have you thought about what that really means? You will need to carefully attach each extension to an individual lash, with one eye closed. If your hand wavers, or your depth perception fails you, you could easily glue the lash to multiple lashes, or even your eyelid. Without a deft touch and a practiced eye, you may find that you simply create clumps of lashes rather than that beautiful, individual lash application you're seeking.
It's All About the Adhesive
Speaking of that adhesive, have you checked out these products lately? Lash technicians use strong adhesives to ensure that your extensions stay in place for the life of the lash. Are you truly comfortable with the idea of applying a powerful glue to your eyelashes – in close proximity to your skin and eye? Frankly, you shouldn't be. These adhesives need to be handled with care, which makes a do-it-yourself approach the least effective option for proper application.
Training and Licensing Matters
Experts always recommend that customers rely on technicians who have the right kind of training, and who are properly licensed by their states.  If you think about it, there's probably a reason for that recommendation. Lash technicians are trained to evaluate your lashes and select the right lash length and weight for your individual needs. Choosing the wrong lashes can result in excess stress on your natural eyelashes, and premature shedding.
Licensing is also important, since it ensures that technicians have received the approval of state authorities. That's designed to protect clients from untrained and less-competent technicians, and ensure the best results. How likely is it that you can apply your own lashes with the level of expertise you'll receive from a professionally-trained and state-sanctioned technician? Sometimes, credentials like that really do matter.
In short, there are many reasons to avoid the DIY option for your eyelash extension needs. At Ebenezer Eyelash, we understand how critical it is for all our customers to receive the best professional applications possible, which is why out team is comprised of only the most highly-trained, New York-licensed technicians in the area. If you've been considering lash extensions but are unsure about your best options, give us a call today. We'll be happy to schedule an appointment and ensure that you receive the best eyelash extensions in New York City.